Welcome!
Hello and Thanks for visiting my web site! Explore with me one of the most beautiful cities of the world, in a personal manner and  joined by a Local Private Tour Guide. 
Take the pleasure of touring Buenos Aires in a customized way, without stress, discovering the small secrets that will make your visit an unforgettable experience, as my Customers say! Check my REFERENCES
Handle your times, places to visit, get exclusive and detailed information according to your tastes and interests, receive advice to choose Tango shows or discover attractions.
Get free access to the Basic Information that every visitor needs to know (useful data, weather, travel tips, places that you can't miss, Basic city tour, hotels, restaurants), or if you want to ask anything about your trip, contact me, and it will be a pleasure to help you –no strings attached!
The real Buenos Aires could be yours, the warm, multicolored city, the city of Tango, where the sky is bright blue, Buenos Aires, the city of Friends, is waiting for you,

Let's discover Buenos Aires together!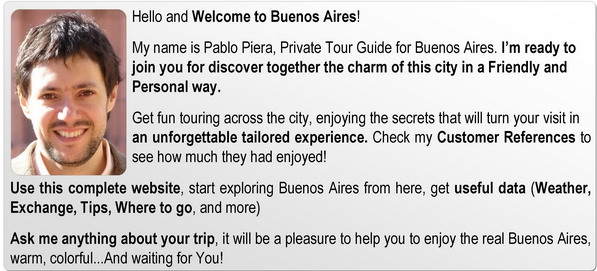 PLACES TO SEE  -  MY SERVICE  -  TOURS  -  USEFUL DATA  -  TRAVEL TIPS  -  NEXT PAGE  -  SITE MAP  -  CONTACT  -  CLIENT REFERENCES 














 
Next page
Recommend this site to a Friend
This is a so complete site, use the SITE MAP

$(document).foundation(); $(document).ready(function(){ /*##################### CHEQUEADOR DE ALINEACION DE MENU #########################*/ if(window.innerWidth > 768){ alinearMenu(); } });