Travel TIPS
You will find Shopping Tips, Security Tips (Check specifically Atm's, Taxis, Credit Cards, FAKE MONEY, etc), and Fun Tips, that I collected during my many years as local and private tour guide here in Buenos Aires.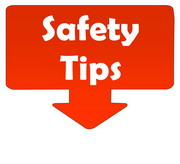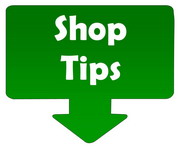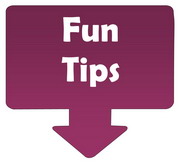 Security Tips
Buenos Aires is NOT a violent city, neither it have any kind of records of steals. Anyway, as in every big city in the World, this is a proper place to little steals and shopliftings. This advices target to make more comfortable your trip, not to scare you.
Safe Taxis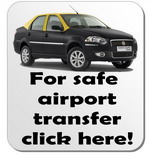 The best is asking for a radio-taxi by phone, I bring you two phone-numbers: 
Pidalo : 4-931-1200, 
Premium 4-956-1200,
In case we met, I have other personal options that could be used in case get a tour together.
If you are not close for a public phone or not have a cel phone, check in the back door of the taxi the advertise about the radio taxi. Other smart strategy is to wait in a light, when the taxis stops, you can check easy if you feel ok with them and if they have the sticker of radio taxi. If you are shopping or in a restaurant, they will call a trusty radio taxi for you.
Paying in the taxis, tipping the taxis
Don't leave the car for pay, mostly if you don't have the accurate amount to pay. You should pay while you still seat inside of the cab, get your exchange there, and then leave the car. In this the local way.

Tipping taxis is nice, but not a duty. Usually the locals doesn't due to the need of coins to pay the bus and other small expenditures, you will probably will not do. In addition you will be an unusual Customer who will spell wrongly the streets, it would be hard to be understood and your power of purchase is four times the power of purchase of the local people. So is very nice from you if you tip arround 5% in short trips and 10% in long trips.
About Pickpockets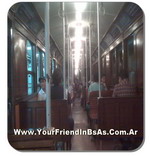 Picpockets are in any city of the World so is at least, ingenuous to imagine that in a city of 15 MM inhabitants we haven't them. My best advice for you is care your things, mainly in the subway. Please don't play the hero, just be awaked and avoid them, they nerver are alone. Unusual events like noise arguments, "mad" people, people insisting in do obvious questions to you or someone close to you, could be a ploy to explore better in your pockets. Leave the locals to deal with this kind of incidents and with the cops, you are our guest, so leave and go.
About "birdpoops"!
There are no extra size piggeons in Buenos Aires, so if suddenly you get a bird drop of dinosaure size, and someone approachs to you to help you to clean the mess, it is just a scam, they put the poop on you to ploy and still you. Push them away and shout, they will leave.

Protect your camera
Far away of presence of policeman, nothing better than being alert on caring about personal objects, that not only have its monetary value, but its have your valious pictures of the trip. Don't let cameras or other objects like phone cels at the view of everybody, over Bar tables or chairs. The most stealing zones are Caminito, Florida st, Mayo Av and Florida st.
Your bag on front
Don't walk with your bag hanging at your back. Some people trains eight hours per day for open bags while you are walking, here and in every place of the World.
Care with surrounding areas!
Do not expose yourself at surrounding areas to the touristic zone without get fresh information about if they are safe or not. Again, one of the most dangerous zones is which surrounds Caminito at La Boca. Policemen standed are clearly the border. Remember that everybody will realize than you are a tourist just by seeing you from far.
ATM machines, Authomathic Cash Dispensers, Do not allow under any circunstance being helped with any trouble with these machines, nor give your security codes to anybody. Do not get big amounts of money in once time. Never use them at night.

VEEEEEERY IMPORTANT: There are two nets of ATM's here in Argentina, I suggest you to use Banelco, you will get more chances get your ATM service conected with it. You will see in the ATM's door a sign with the brand Banelco, doesn't matters wich bank is.

VEEEEEERY IMPORTANT 2: Due to security reasons, and of course without telling you, your efficient bank may have decided that you are able to get $arg 2000 per extraction. Don't worry, by "security reasons", they will allow you do it five extractions of $arg 200 one after other, at the same time in the same ATM without problems. Usually the BANELCO net of ATM's (it is in most of the Argentinean Banks) is more Friendly than others, because once you insert your card, the language drives to english This make easier your life!!!

Do not carry your passport
Passport are as valious or more than money. You can use a photocopy or you passport or use another document. Carry only if you need to go to exchange money.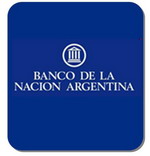 Don't exchange money at the street
There are a lot of persons offering you exchange in better conditions than authorized and installed houses of exchange. Nothing never happens but...Are you so expert  to avoid swindles with false money?
The best places to exchange according to my experience are: 
In the airport, the BANCO NACION, the official bank which pays nice rates.
In Downtown, Corrientes 546, in general terms, at Corrientes Av at 500's there are a few other exchange houses.
In Recoleta, Quintana Av close to La Biela Coffee. This people is a company which is many places, they don't pay the best exchange, but they are almost all day open, Sunday included.
The authorized exchange house will always ask your passport, not fotocopy, the original one so exchange thinking in go back to the hotel to drop it there and the money you got.
Get your cash separated from your credit cards and documents
It's a way of reduce the risk of lose everything in one shot.
Crossing the street
Never care when we the argentineans do for cross the street, we never cross nice!! So don't follow the crouds, check by your own the light. Drivers not always stops to let you cross, you be careful although you are using the pedestrian cross.
Get medical traveller assistance
Our medical sistem is ok, but to get an extra service will allow you feel more comfortable and avoid long lines at 3 am if you feel sick
Please, please, please use sun block cream!!!
Many people thinks Hey we go south! There is cold! No my friends, no cold, and strong sun, ready to cook your transparent skin in an hour. Use UV filter cream. I use 50 uv and believe me, you need it also. You don't want to spend 3 horrible days burn at the hotel right?

How to detect fake argentinean money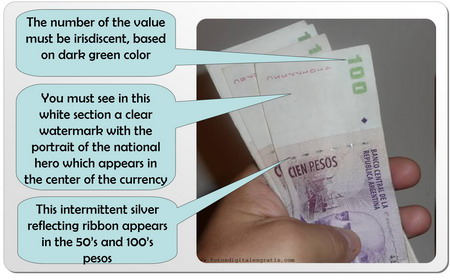 Here goes some easy clues to avoid the normal turists tricks with fake money

- The number of the value must be irisdiscent, based on dark green color
- You must see in this white section a clear watermark with the portrait of the national hero which appears in the center of the currency, when you put the bill against the light.
- An intermittent silver reflecting ribbon appears in the 50's and 100's pesos
Never lose the view of the currency you give, specially in the taxis. Be sure about the money you give, so if is there a "magical pass" you can deffend yourself arguing.


Shopping Tips
About most accepted Credit Cards
You don't want to arrive to this nice city and have a credit card that is not usually accepted, so let me suggest get a Visa or American Express. CLEARLY is Visa the most accepted here in Argentina.

Mental revision of your wardrobe
Keep in mind what are the clothes wich whom you should combine the coat you are buying, or better, forget everything about your clothes and buy a complete clothes set!
The limit of bergain
All arround the World is used to ask a discount, also here in Buenos Aires, but this apply with a certain limit, which here is arround 10%, and it only apply for touristic shops. We the locals do not bergain.

How to read a rate
In Argentina, the rates must be expressed in pesos, if someone tells you that a rate shown is in dollars, is probably is trying to cheat you unless you see clearly the simbol USD, because when you see $ is meaning argentinean $. TAXES are included in the price, so no reason to pay more than the price expressed. Usually you can get a discount paying in cash, but it is no normal that the rate expressed get increased if you pay with credit card. The only exception is when you see the price and the statement "Contado" (Cash)

Fun Tips
Prepare your travel with time
Without turn the preparations in a torture, to have an idea about what you wish to see is the best way to have place for improvisation. It is a paradox but best improvisations are what jump out from a plan, and not which are the only one plan. Buenos Aires is a very big city and offers an enormous variety of alternatives, it is very easy to get confused and lose beauty places or shows if you have not taken the caution of schedule what you believe should be the most interesting to you.
Travel light!
Travel with a few things is absolutely comfortable, but most important: You need to let space to the lot of new things that you will by here! It's absolutely possible to get dress "from feet to head" with World Class Brands, just visiting one of the many shoppings of the city. You also can get excelent argentinean-design clothes.
Use Guide-Books
Guide-books are so useful because they bring synthetic data about places you are visiting, things to check, timetables of museums and galleries, etc. It is good to have them close althought not having read them previously. Of course Guide books doesn't replace my personal advices, so it would be nice if you hire me! :-)
Check before hire at the Airports
As a general rule, airports agencies pays elevated fees for being there. Ask for information, but compare prices before decide, and don't feel uncomfortable, they have locals close to your hotels, ask them a phone or and adress, just in case.

Get a local Cell-phone line easy and cheap
You can carry a cell-phone and get a SIM card here, at a cost of US$ 5 and get some minutes by other US$ 5. This SIM's have a standard price, even in Airports. These are the companies: Movistar, Claro, Personal. You have no idea about how extremelly useful is to account with a local phone line (for booking a dinner, call a taxi, check with the hotel, etc).
Get a map and basic data written
Get a city map and some notes about useful notes, like hotel, travel agency you  hired, consulate office and the name of some relative of yours. Ask to the hotel receptionist to mark with a cross where is the hotel placed on your map. You can ask me a tourist map free.

            













 Places to visit






Next page  
Recommend this site
Know more About me
Home  
Customer References